Monica Ortega wrote and published her book The Power of Pivoting: How to Embrace Change and Create a Life You Love in the year the whole world was battling a pandemic. Her book kickstarted a whole new dimension in her life and work.
This is the story about her book, how it started, the things that helped her and the things that didn't and what ALL her book led her to achieve!
I started my travel show almost seven years ago. It was all about inspiring people to break out of their comfort zones and then 2020 happened. Travel stalled and I saw the whole world getting scared and freaking out.
I too had gone through my share of feeling lost as the rug got pulled out underneath my feet like during my divorce and I had been through a lot of pivots in my life.
This time I saw the same thing happening to the whole world- we all had the rug pulled out. People didn't know what to do.
I am pretty Type A and over the years, I had put together some tips and tools for myself to help me through. So, I thought let me see if there is something here to write.
Wonderful! Tell me how you wrote your book. How was that journey? 
One thing I do tell authors if you are looking at planning a book just chunk it down so it is not overwhelming. After I 'chunked' my chapters on notecards and created a clear chapter structure, writing it down became easy. I wrote the entire book in three weeks! 
I didn't know at the beginning of the year that I would be writing a book and then I wrote it in 3 weeks. It was crazy because it happened so quickly but it was also years and years of heartache and life lessons that got distilled in that book. For many years, self-help books helped me. I read many as I tried to figure out ways through the heartaches. In my book, I finally wrote down the tips and tools I had learnt in my own way and voice. 
It was interesting too because I thought that usually, women read self-help books. But because of the way it is written, my book actually reached a lot of men.
Yes! That's brilliant in so many ways because authors often stop themselves from writing when they see so many books already saying the same things they want to say. Everything has been said before, but it's not been said in their voice! That makes all the difference.
Tell me, when you started writing did you have a target audience in mind?
At the time of writing, I didn't think of them. I just wrote. It was during my marketing stage that I thought more about the target audience. I genuinely thought it would reach more women just because the self-help genre talks about divorce, and all those things but I was pleasantly surprised when my mastermind class was attended by a 50/50 ratio of men to women. This made me rethink the other things which became an offshoot of my writing like the retreat and the coaching, I do now. 
Tell us something about your publishing journey…
Now that the manuscript was ready, I had to publish it. Anybody who has been through that experience will tell you that finding a publisher is very difficult. Then January-February came and I started hearing everyone say the word 'Pivot'. 
I realised I needed to get this book out there fast because it's timely. Timing matters and my book needed to be published soon. I decided to self-publish and that was a learning experience!
It involved a lot of Googling. I found a couple of people who had done it before and asked them. I joined a Facebook group on self-publishing and got a lot of advice. 
I spent a month working just on a launch idea, not even the launch itself. In that month I created a launch team and spent time learning about Amazon categories and everything else I needed for the launch. 
Then I spent about a month where I promoted the book. 
I got people involved in the cover design. I think that was a big key in making people feel like they were a part of the process and so when it launched it did pretty well.
After the launch I did many things like podcasts interviews, submitting to magazines, speaking on Clubhouse. I was speaking at every chance I got. There are all these different ways you can try. I think word of mouth now through social media is better than ever.
How did you build your Author Platform?
I had built a platform earlier but it was in travel. It didn't convert for the book. So, it did really feel like starting from scratch in terms of promoting. But I found word of mouth interesting. It was like guerrilla-style marketing.
I was telling people every chance I got, getting the launch team together, sending out newsletters. 
My newsletter had only 250 people when I started this. 
I don't think it's important to have a giant platform before you start but it's important to know how to utilize the platform that you have.
That is a big part of the reason it turned into such a good launch for me. And that was my weird journey with publishing!
Every author's journey is different and I think that's the most amazing part. Tell me more about your launch team.
I created my launch team through Facebook. I messaged people and told them what I was working on.
I would ask if anyone wants a free advanced review copy? I gave those people who said 'Yes' a discount for the first week.
The first week of the launch was just for the launch team. The book was priced at 99 cents for that week. The launch team also got a pdf version to read beforehand. I asked them to post an honest Amazon review and post about the book on their social media. 
That helped get the word out to a larger audience.
My learning- I will say, if you are building a launch team, to build it bigger than you think you need because I had about 100 people and only 40% ended up following through. 
That's pretty typical. So, go big!
I believe that our past experiences are never wasted. Do you think that your experience in running your own travel show helped you in marketing your book?
Yeah, I think it is interesting because I learnt a lot about marketing, social media and promotions through the mistakes that I made during the seven years of my travel show.
The skills definitely helped but the audience that I built for the travel show didn't convert as much because the book was such a different thing. It felt like I was starting from scratch in that aspect.
You can write the best book but if nobody can find it then it really doesn't matter
So true… Let's talk about social media and other platforms…what worked and what didn't.
I found Clubhouse which is the new audio app, worked the best for me. I think it's because it allows people to hear the passion behind your voice when you are talking about the writing as opposed to just a static post.
Instagram didn't convert for me. Facebook, LinkedIn and Clubhouse worked well.
I also went on many podcasts as a guest. To become a guest on podcasts first I used podcast interview sites like PodMatch, Poddit and Podbooker. Later, I just found self-help podcasts, mindset podcasts and more like them.
I did over 25 podcasts in a month. I still have a few more coming up (we spoke on 2 June 2021). Podcasts really help because then your book reaches a wider audience and you also get to talk about your book. I highly recommend that authors do podcasts.
To get into podcasts I would recommend authors create a website or a landing page at least. I also created a one-sheet about the book, like a mini media kit which I sent to magazines and other places like that, even to podcasts.
I did reach out to some author bloggers, and even Book Tubers, Bookstagram. That didn't convert much for me and a lot of them wanted money for it. So, if you want to put in the money, you could go that way but I would say you are better off utilizing the free things there are available.
If you want to put money into something I put it into something where you can learn like Kindlepreneur. It teaches about Amazon and self-publishing. I learnt how to do the categories, how to set up ads. That to me was worth it. 
I also invested in Publisher Rocket. I think it was only $97 for life and that was good. Book categories are important and I think that helped me stay in the bestseller area for about 30 days. Authors should learn about book categories and apply them. 
Another good way is speaking gigs. I have speaking gigs coming up but one said that didn't have a budget. I said, "can you buy 20 books?" They bought the books to give away to the first 20 people who signed up for the conference. That's another way to ensure that your book goes out into the world and more people read it. You never know what that can turn into!
Wow! Thank you for sharing that amazing information. What new things came into your life because of your book?
The book came out and people said, "we want more." But I didn't know what else to do. My book had exercises and different things in it, that's how I thought of working one-on-one with people and I am doing that now.
In fact, I am in the middle of a six-week mindset mastermind. In these sessions, I break down those exercises with people. I am also planning a retreat in September. My first retreat! It will combine elements of the combines the travel show that I had, 'Facing Your Fears on Adventures' with the mindset portions. So, we will have mindset sessions in the morning and then later we go rock climbing and white river rafting!
It's been great watching it all come into place and seeing how pieces of the past 38 years are fitting together.
It's been a wild journey because a year ago I didn't even plan on writing the book. 
I have been listening to the nudges. My gut kept telling me to hire a business coach and I thought I can't hire a business coach because I just threw all this money into publishing the book. But within one meeting she had paid for her services and within 3 meetings we had paid off the publishing cost! That's what happens when you listen to your gut.
My business coach is helping me figure out what's next.
I think that's a good lesson I learnt especially in the non-fiction world if you are going to launch your book, have a bigger plan, because the sales go great at first and then it's nothing maybe like one or two here and there and that's pretty typical unless you are a giant name.
 Having a business coach helped because I now have somebody telling me, "Ok, here's the next step, here's coaching, here's masterminds, here's a retreat."
So, it sort of expanded into different ways. Otherwise, I feel like if I hadn't done that I would have been like, "ok that was fun. That's about it!" The ideas would not have gone anywhere beyond the book.
And it's funny because, after writing and publishing, I said I would never write another book and now I have come up with two more titles!
Wow, one book led to so much! What more you dream of, what more you plan?
My dream was always speaking gigs. I was a host for 20 years. Being in front of people is the best part of the retreats and it is going to be a huge portion of my business now because it is combining two things that I love- travel and speaking gigs. I would love to be running 5-6 retreats a year and speaking a few times a month. That's the dream. There's coaching on the side and a travel show…
Hi,
I am Nishka…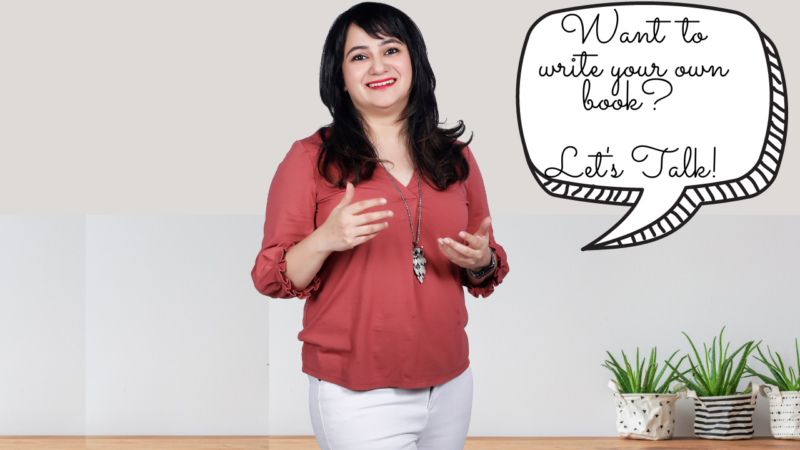 I call myself an Ideology Empath because I use my empath skills to understand my author's ideas from their perspective and then weave those complex life-long learnings into an easily understood ideology.
I have written 7 non-fiction books in different niches and plan to write many more…
Want some help?
Email me now: Nishka@Nishkawrites.com
Plussssss….Looking for more videos on the writing process?
Check my YouTube Channel. Subscribe and like:)